We're very concerned to learn of a planning application made by Southwark Council for permission to chop down four mature poplar trees and eight ash and maple trees in Bessemer Grange Nature Garden (also known as Nairne Grove Nature Garden).
This small, biodiverse garden is used by pupils from Bessemer Grange Primary, as well as for Forest School community activities. The school's catchment area includes three large council estates - Champion Hill, Denmark Hill and Dog Kennel Hill. Many of the pupils live in flats without gardens. For them, the chance to learn about nature in a woodland setting is rare and highly valued.
This photo from the school's website shows a Year 1 class in the garden.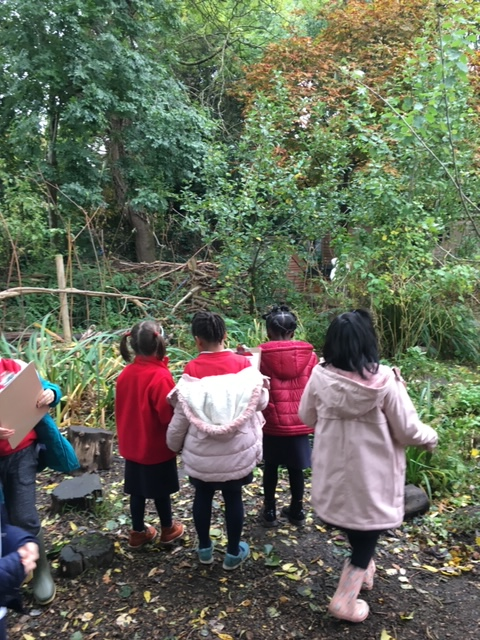 The trees are covered by Tree Protection Orders and the garden is listed as a Site of Importance for Nature Conservation by Southwark Council, as well as being in a 'Critical Drainage Area'.
The reason that the tree felling is being considered is that there is subsidence to a neighbouring house. The structural engineer's report notes:

It is well known that councils are under severe pressure to avoid litigation from insurers who may find it convenient to blame trees for soil movement. But due to climate change, all homes built on London clay are now affected by increased 'seasonal variations in moisture content': more winter rain, more summer heat.
Urban trees help slow climate change by soaking up carbon. But they are also vital in helping cities adapt to (already occuring) climate change: their roots soak up winter rain and stabilise soil; their shade reduces overheating in summer.
It would therefore be very unwise to cut down these trees without a very good reason in a climate crisis. It might well make the subsidence to the neighbouring house worse, as well as reducing the beauty and biodiversity of the nature garden.
Bizarrely, the council is proposing to cut down more trees than the insurers have asked for. An independent arboricultural report for the owner's insurers (supplied with the planning application) suggests felling two poplar trees and simply pruning two smaller ones that are further away. So why is the council asking for permission to fell all four? Is this a simple error or a reckless choice intended to save on future maintenance costs?

(Below, a screenshot from the arboricultural report, giving height of the four poplar trees (19m, 15 m) and their distance from the house (17.3m and 22m), with the recommendation to prune the small trees, rather than fell.


We hope the council will look at this application in the light of the climate emergency, taking advice from its own Tree Officers and Ecology Officers, and from its Climate Change Programme Director, and reject this application. We will be commenting here https://planning.southwark.gov.uk/online-applications
Search for application 20/AP/0540 | TG1
Comments close on Tuesday 7 April.
(A side-note. A trial hole dug in June 2019 encountered water less than a metre down, apparently coming from the house. Could a leak be causing the subsidence? Has this been properly investigated before trees are blamed?)

Do you like this post?
---